Sometimes we all make mistakes; look here if you think you found one in one of my patterns.
_____
8/23/2018 Avix
Updated schematic to correctly reflect the length from armscye to bottom of the hem. Previously the schematic indicated 16.5″ for all sizes, but the measurement should be 16.75 (16.5, 16.5, 16.25, 15.75, 15.5)". The corresponding pattern instructions on p.5 have also been corrected to state that body length from armscye to before the 1″ ribbed hem should measure about 15.75 (15.5, 15.5, 15.25, 14.75, 14.5)".
The important thing here is really just to work the lace chart through Row 170 for all sizes!
_____
4/30/2018 Knitting Short Rows; Techniques For Great Shapes and Angles
p.86 Buttonhole row 5: (RS) K5, MB, knit to last 8 sts, MB, k5.
The Twin-Stitch Method on a Knit Row, p. 120
1. Knit to the turning point; insert the right needle tip knitwise under the front leg of the stitch below the next stitch and knit . . .
6/6/2016 Frost Grape
Short rows at back neck: Short Row 1 (RS): K12 (12, 13, 14, 16, 16, 17, 17, 17, 22), w&t.
Short Row 2 (WS): P6 (6, 7, 7, 9, 9, 10, 10, 8, 11), w&t.
Short Row 3 (RS): knit to wrapped st, knit wrap together with st, K2 (2, 2, 2, 2, 2, 2, 2, 3, 3), w&t.
Short Row 4 (WS): purl to wrapped st, purl wrap together with
st, P2 (2, 2, 2, 2, 2, 2, 2, 3, 3), w&t.
I've also revised the beginning of the topdown sleeves so that the initial decrease better helps avoid holes at the underarm pickup, revised the number of cuff rows to match the schematic, and added stitch counts in a few additional helpful places in the pattern.
_____
1/22/15 Silverado
Hem: After the Setup Row (WS), 6 rows should be worked in Rib pattern as established then the hem bound off on the RS, in order to begin the applied I-cord at the right bottom edge without cutting the yarn.
Raglan Increases, Rows 1 & 3, (RS): . . .  sm, Pf&b, purl to 2 st before next marker, Pf&b, P1, sm . . .
I've updated the placement of the Pf&b to immediately after the left sleeve marker, and 1 stitch before the right sleeve marker, to improve visual symmetry.
_____
3/25/14 Katie Scarlett, Woolly Wonka Fibers Heroines Shawl Club version:
The Diamond last rep chart Row 9 is missing the SSK and K2tog symbols; the written instructions are correct. The chart should look like this;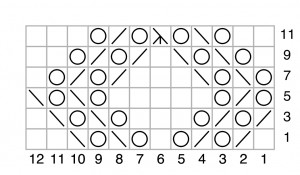 1/9/13   Snug, published in Clotheshorse magazine.
The gauge as listed in the magazine, and the needle size for gauge, should be 16 st and 22 rows/4″ with US 8 needle, after blocking.