Sometimes we all make mistakes; look here if you think you found one in one of my patterns.
1/22/15 Silverado
Hem: After the Setup Row (WS), 6 rows should be worked in Rib pattern as established then the hem bound off on the RS, in order to begin the applied I-cord at the right bottom edge without cutting the yarn.
Raglan Increases, Rows 1 & 3, (RS): . . .  sm, Pf&b, purl to 2 st before next marker, Pf&b, P1, sm . . .
I've updated the placement of the Pf&b to immediately after the left sleeve marker, and 1 stitch before the right sleeve marker, to improve visual symmetry.
3/25/14 Katie Scarlett, Woolly Wonka Fibers Heroines Shawl Club version:
The Diamond last rep chart Row 9 is missing the SSK and K2tog symbols; the written instructions are correct. The chart should look like this;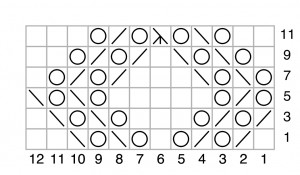 1/9/13   Snug, published in Clotheshorse magazine.
The gauge as listed in the magazine, and the needle size for gauge, should be 16 st and 22 rows/4″ with US 8 needle, after blocking.