My giant, asymmetrical, two-color shawl Sundry is one of my most popular designs. It's so over the top, I had no idea what sort of reception it would get once released. But people seem to like it, which is always great. I think it's the opportunity to mix and match colors, and to customize their placement. A look at some projects on Ravelry shows all sorts of beautiful choices: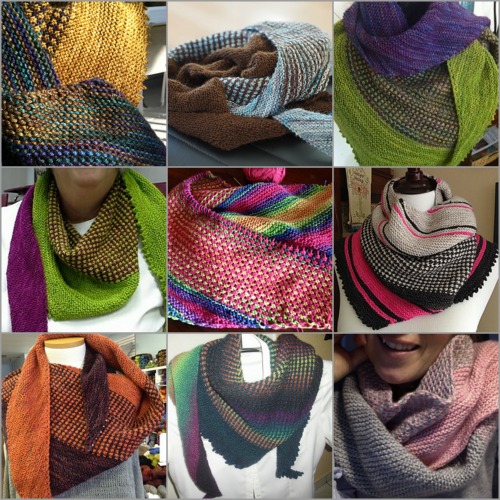 One of the reasons I love the sample so much is the yarn I used; Selku by String Theory Hand Dyed Yarn. It's a wool and silk sportweight blend with excellent drape, and the gorgeous colors for which Karen and Tanis are known. I was fortunate to see their lovely yarns in person at out tiny, local sheep and fiber festival at the beginning of September, and inspired to create another design using Selku. I was looking for something to pair with the purpley-blue Viola colorway I had been hoarding, and found a deep raspberry that was perfect.
For fans of Sundry, my new shawl Vary will be out in a few days.