I'm pleased to announce that as of June 2015, Box Pleat is available as an individual pdf pattern from my Ravelry store. I've extended the size range to 10 sizes from 36.5 to 57.25 (and suggest it be worn with about 6″of positive ease), and expanded the pattern instructions and notes, as per my usual pattern style and format. See all the details and the new photos on my new blog post, and on Ravelry.
I buy all the knitting magazines, and my favorite by far is knit.wear from Interweave – so modern, with beautiful, simple photography an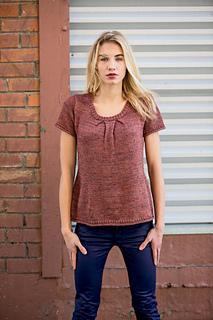 d exactly the kinds of things I like to knit. Having a design published is always exciting, but I'm extra-jazzed about my Box Pleat Scoopneck sweater, which is in the Spring/Summer issue of knit.wear.
Box pleats can easily bring to mind classic schoolgirls with blazers and penny loafers, so the challenge here was to design a clean updated look that a modern girl would want to wear. I kept the fabric simple stockinette, and gave the boxy sweater shape that's so popular right now a feminine spin by shaping only the back with princess seams, and leaving the fullness in the front to be consumed just below the deep neckline in the pleats. One large center box pleat flanked by two small side pleats keeps the whole look streamlined, and the seamless set-in sleeves maintain neat, fitted shoulders – I love the dropped-shoulder, square and boxy look, but this sweater is a bit more refined. Plus, the construction is modern and simple too – worked in the round from the bottom up, with seamless short-row sleeves.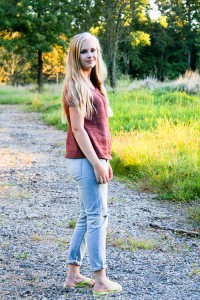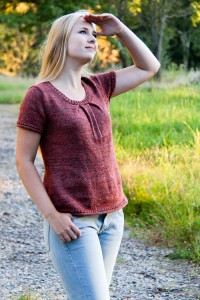 The Blue Moon Fiber Arts Woobu that was my suggested yarn is a great wool/bamboo blend that knits like wool but adds a little extra drape and sheen perfect for a warmer weather sweater. It was ideal for the early fall, too, when I took these photos.
For all the pattern details, see the Box Pleat Scoopneck on Ravelry; and check out all the other fabulous designs in knit.wear Spring/Summer as well – I love them all!