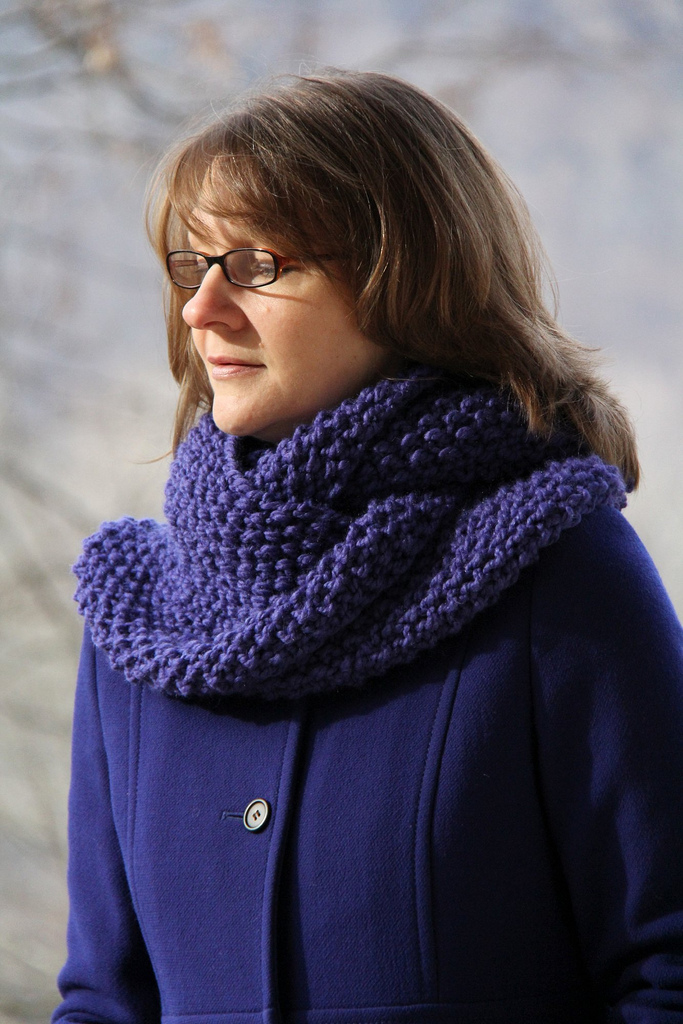 Sometimes, despite having deadline knitting and SABLE (Stash Acquisition Beyond Life Expectancy), one is in her local big box craft store and just cant resist a nice sale on a suddenly-attention-grabbing yarn. This happened to me on friday, with some compelling sapphire blue Lion Brand Wool-Ease Thick & Quick. It's gotten frigid around here, and I've been eyeing my J. Crew lady day coat, hanging in the closet just calling to me.
Well, who doesn't need a big, scrushy seed stitch infinity cowl? I certainly, suddenly, do. This one is cast on using the brilliant moebius CO as demonstrated by the incomparable Cat Bordhi in her moebius CO tutorial video. It allows you to knit from the cast on middle of the ring, to the long outer edge, following the infinity moebius shape.
As there's not much more to it than that, herewith the instructions:
Ring of Sapphire
Techniques Used: Moebius CO, knit/purl.
Experience Level: Adventurous Beginner.
Size: 9" wide x 60" circumference.
Yarn: Lion Brand Wool-Ease Thick & Quick (80% acrylic, 20% wool; 108 yards); 2 skeins, Cobalt.
Other Materials:
US 13 60" circular needle, or size to match gauge.
Stitch markers  (1).
Gauge: 7 st x 16 rows/4" in seed stitch. Gauge is not critical for this project.
Pattern
CO 100 st using the moebius CO method; pm and join to knit in the round. 200 st.
Round 1: * K1, P1 * rep from * to end of round.
Round 2: * P1, K1 * rep from * to end of round.
Repeat these 2 rounds 9 times, or until you only have enough yarn left to bind off. I used every single inch of my 2 skeins, so you might need to knit fewer rounds if your rate of use is outpacing mine. BO loosely.
Weave in ends (a big size K/6.5 mm crochet hook does this nicely), arrange artfully around neck, and remain warm.