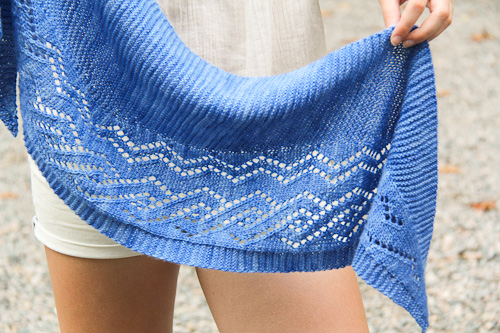 Scheherazade, the Vizier's Daughter, is the legendary storyteller of One Thousand and One Arabian Nights. She agrees to spend one night with the king, a tyrant who has married and the next day beheaded a virgin one thousand times already, in anger and vengeance over finding that his first wife had been unfaithful to him. At nightfall, Scheherazade begins a story, which she stops mid-tale at dawn. Enthralled by the narrative, the king spares her life until the next night, when she finishes the story and begins another, again pausing at dawn. And so it goes for 1001 nights, until she tells him she has no more stories, during which time the king has fallen in love with her and begat their three sons. Kinder and wiser, he spares her life and makes her his queen.
This one skein shawl is knit sideways with a garter stitch body and narrow bottom edge, and features sinuous lace along the lower curve. The decorative motif recalls the arabesques of Islamic surface decoration, based on linear patterns of scrolling or interlacing lines and tendrils.
Techniques & Skills Used: knit/purl, increasing/decreasing, easy lace; this pattern is both fully written and charted.
Size: 60" length and 12" depth, after blocking; size is customizable.
Yarn: Wooly Wonka Fibers Aerten Sock (80% merino wool, 10% cashmere, 10% nylon; 435 yards/100g); 1 skein, shown in Persian Tiles. Any amount of yarn may be used; see Designer's Notes.
Other Materials: US 6 (4mm) 32" circular needle; Stitch markers (2); Yarn needle.
Gauge: 26 st and 26 rows/4" in garter stitch; lace repeat is approximately 4.25" at widest point, after blocking. Gauge is not critical for this project, however a different gauge may result in a smaller or larger finished shawl, and different yardage requirements.
Originally exclusive to the 2014 Heroines Shawl Club from Wooly Wonka Fibers, and now availble as a Ravelry download.
See it on Ravelry, to read more or purchase the pattern.