The Indie Design Gift-A-Long is in full swing on Ravelry, with so many talented designers participating, and such an array of beautiful patterns. Today I'm talking with the very talented Laura Patterson of Fiber Dreams, who has an amazing catalog of designs all of which feature thoughtfully combined elements and detail, as well as evocative names and descriptive inspiration. I asked Laura about her work, and she graciously shared the answers that appear below:
How did you get started designing?
Not long after I started knitting, I began tweaking the patterns I knit. I didn't like the rolled collar on a pullover, so knit ribbing instead, I added length and pockets to a too-short cardigan, worked a different top treatment on a sock or changed the toe. Mostly it was little stuff like that, but after a while there was almost always some change I made. Then I started making more drastic changes, like changing the gauge for a sweater I loved to work with the yarn I had on hand. Throughout all this my husband said, repeatedly, that I really should just design my own knits. It finally started to sink in, and I started out with a design for a lap blanket, Pinwheel, for him to use at his desk in the winter using scraps of yarn left over from decades of afghans I'd crocheted. Six months or so later I released a little sock pattern, Forget-Me-Not. A couple months later the slippery slope of lace shawl design began with South Seas Stole. I've been designing ever since.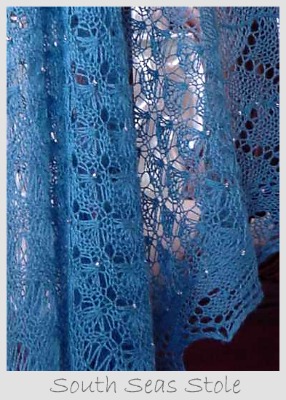 I notice lace is a feature of many of your designs; can you tell us what inspires you about working with lace?
The balance, the mathematical precision, of planned yarn overs with left- and right-leaning decreases is very soothing. The ebb and tide, the flow of the lace as it comes off the needles. When broken down, many lace designs are much simpler than they appear at first sight. The actual knitting of them is very satisfying, as is finding and modifying just the right stitches to combine to make a whole design. The real magic, though, happens with blocking, when the beauty of the lace is revealed in its final form. It's quite addicting. Of my lace designs, my husband's favorite is Domus Aurea. My favorite is usually what most recently came off the needles, but over the course of time my two absolute favorites are Clematis and Spanish Dancer. Both designs have miles of easy garter stitch with simple lace borders, and were very satisfying to knit.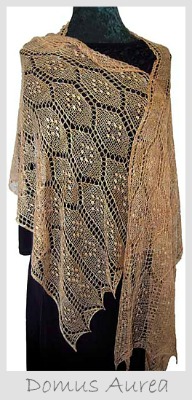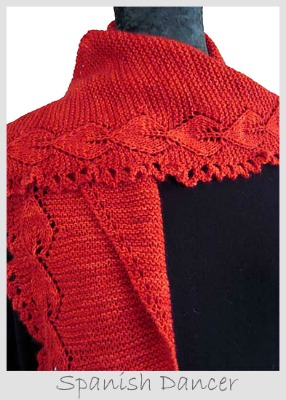 What are some of your favorite materials, including yarns or knitting tools?
Fine wools, alpaca, cashmere, yak, silk — all these are favorite yarn fibers, alone or in combination. I have to admit to being quite spoiled by the high end yarns that I am normally given by independent yarn dyers to work with. Their generosity never ceases to astound. As to the tools… For knitting small things in the round, such as socks and fingerless mitts, my go-to needles are the bamboo sets from Crystal Palace that I bought years ago. For anything else I use circulars. My favorite lace needles are ChiaoGoo Red Lace. Their sharp points and flexible cables are the perfect combination for most of my lace projects. When sweaters have simple stitches, I love my handmade wood needles from Indian Lake Artisans. For everything else I use Knitter's Pride interchangeables. My all-time favorite tools, though, are the tiny steel crochet hooks I use to insert beads into my lace. They belonged to my grandmother, and so are very precious.
Do you knit holiday gifts? If so, what are you hoping to make this year?
The short answer is, no, I do not. The longer answer is this: Like when I resolved to never again make a New Year's resolution, I've never been happier than when I vowed to never again knit, crochet, or stitch holiday gifts.
Will you have any new releases during the GAL 2014 period?
I'll have at least one new release during the GAL: another crescent shawl in a beautiful red hand-dyed yarn from The Sheepwalk Fiber Arts Studio. This one is a top-down design with lots and lots of lace. My tech editor is currently beating me about the head and shoulders, trying to get the correct numbers into the pattern, and to get it to make sense over all. We'll get it sorted before long, though. Once we do, it'll be a quick release for me, as the photos and layout are already done. I've even named it already. Hooray!  (author's note: here is the very recently released Desiderata shawl – lovely!)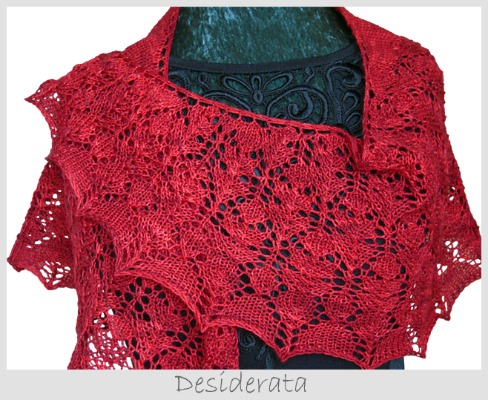 Laura's designer page on Ravelry is full of additional richly detailed, compelling work. I love North Coast and Cirrhosa, two crescent shawls with fabulously extravagant yet totally accessible borders. And short rows – my favorite!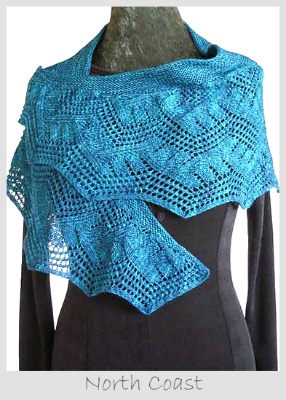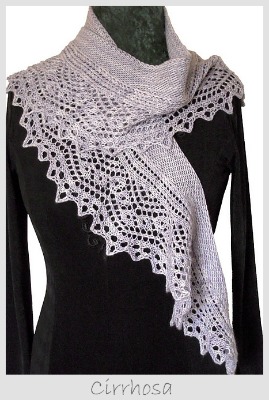 Choose your favorite and join the Indie Design Gift-A-Long KALs, which climax with the New Year's Eve party on December 31. I'm also taking this opportunity to add to my queue for the future. Thanks, Laura!