I never really think of myself as a lace knitter, either in terms of making things in delicate lace stitch patterns, or working with laceweight yarn. I do both of those things, though, and always forget how much I enjoy it. Katie Scarlett was a case in point; 800+ yards of bfl wool & silk, mostly lace ( I did sneak in a little short-row ruffle at the bottom, since that's my favorite sort of thing) . . . And it was a rhythmic, easy knit, due in large part to the beautiful Artio Lace yarn from Wooly Wonka Fibers.
To spread the lace knitting love, I'm giving away a skein of Artio Lace in the shimmering Twelve Oaks colorway used in the sample, and dyed exclusively for the Heroines Shawl Club March kit, where Katie Scarlett debuted. The pattern is available for purchase on Ravelry to everyone as of June 1, and for the next week will be 40% off with the coupon code FIDDLEDEEDEE. All purchasers will be entered into a random drawing to win the skein of Artio Lace pictured here, to make the shawl.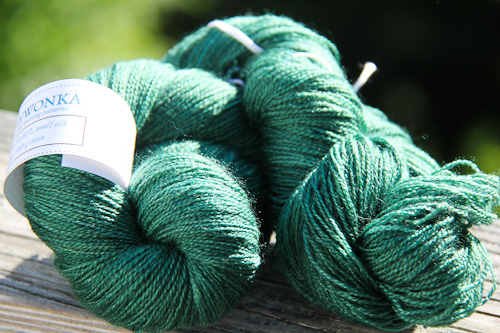 Contest runs from June 3 through June 9, 2014, and I'll announce the winner on June 10. Tomorrow is another day – for lace knitting!