With the Spring 2014 palette forecast by Pantone comes the new reigning color: Radiant Orchid is the Color of the Year for 2014.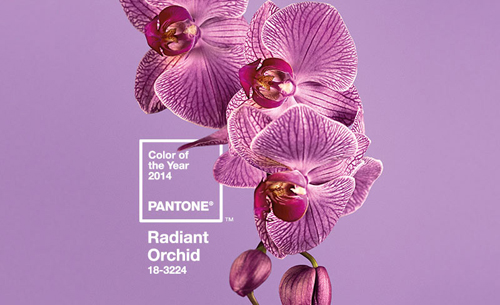 Out with the regeneration and healing of Emerald, and onward with the innovation and creativity of Orchid. Pantone opines "an enchanting harmony of fuchsia, purple and pink undertones, Radiant Orchid inspires confidence and emanates great joy, love and health. It is a captivating purple, one that draws you in with its beguiling charm." I'm certainly beguiled by purples, which are more daring and unexpected than the red, green and blues. This one in particular is a bit off-beat, with the very pink undertones, and the creamy, strong white value. It's a color that makes you think, hey, that would go with my favorite black outfit . . .  and in my living room . . .  and I need new nail polish.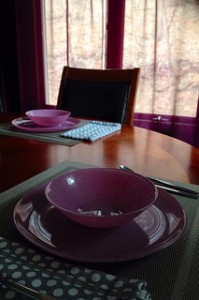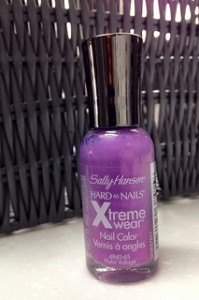 Somehow it goes with everything in the rest of the Spring palette, and it's strong enough to stand up to what are sure to be the deeper, richer fall colors. I personally see it as a successful accent color, although I'm remembering that I painted the walls of my tiny dressing room in our old row house almost exactly this shade – and that room became my daughter's nursery when she was born 15 years ago. And my Ikea dishes are also this color; maybe if I point out how on-trend we are, my husband will stop ignoring the purple bowls in favor of the black ones for his cereal. Anyway, I feel like I have a history with this color, which makes me like it even more.
For those wanting to adopt, Pantone has provided color value information in various systems. The Pantone color number is 18-3224; the RGB is R177 G99 B163 and the CMYK is C33 M72 Y0 K0, in the Pantone fashion & home color system. For web use, it's hex#B163A3.
If you want to use it with other colors, Color Scheme Designer is a nifty tool; their suggestion for Radiant Orchid in a triad brings in greens and yellows triangulated across the color wheel, or with reddish and blueish analogous tones.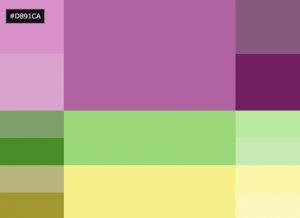 Of course I see it with my favorite grey and blue tones; slate, sky and black. While I might wear, say, an Orchid blouse, I really love the color as an accent. At the very least, I'll be pulling out my mirrored shades and going from there.