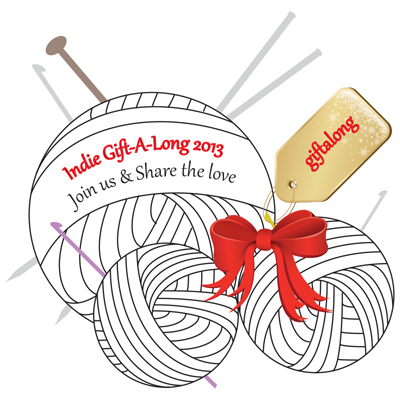 Finally I can share with you a super-big, super-exciting event of which I am part, created by many of the independent designers on Ravelry! The Indie Design Gift-A-Long is a knitting and crochet-along that is taking place from November 1 to December 31, 2013 in the Indie Design Gift-A-Long group on Ravelry – with participation threads for all categories of items, and hundreds of prizes donated by designers and yarnies. To kick off the event, participating patterns are on sale for 25% discount with the Ravelry coupon code "giftalong" from November 1-15 (GMT).
From the description in the group:
Prepping for the holidays as only fiber folks can, with special deals from tons of indie designers! What is Gift-A-Long? It's a multi-designer promotion to help you kick your holiday gift-making into high gear! Put plainly, from November 1st until November 15th (GMT) any pattern listed in the "List of Participating Patterns" thread is 25% off when you use the code "giftalong". Once you've got your Gift-A-Long patterns, we encourage you to join a relevant KAL/CAL! (For instance, if it is a cowl, please join the cowl KAL/CAL.) KAL/CAL participants are eligible for lots of lovely prizes (check out the Prizes thread for details) but you gotta post to win! KAL/CALs will run until December 31st, plenty of time to knock out all your holiday knitting and crocheting. On your mark…get set…. GIFT!!
All of my individual, self-published patterns, as well as my Hail, Tartania!, Silt & Stone, and Crimp Hat & Crimpy Mitts ebooks, are included in the sale. Here's a teaser sample of some included patterns; you can see them all in my Ravelry store The Knitting Vortex – Designs by Jennifer Dassau.