. . . and Stitches East, too, of course. October is a busy month for yarn acquisition in the northeast; the weather is just getting right for all that fall sweater knitting, and there are yarn events. Stitches East, the regional yarn expo put on by Knitting Universe, and the Dutchess County Sheep and Wool Festival, aka Rhinebeck, are always a week or two apart during cider season. This year my cronies and I were focusing on Rhinebeck, and we had a beautiful, wonderful time there. You cant beat this: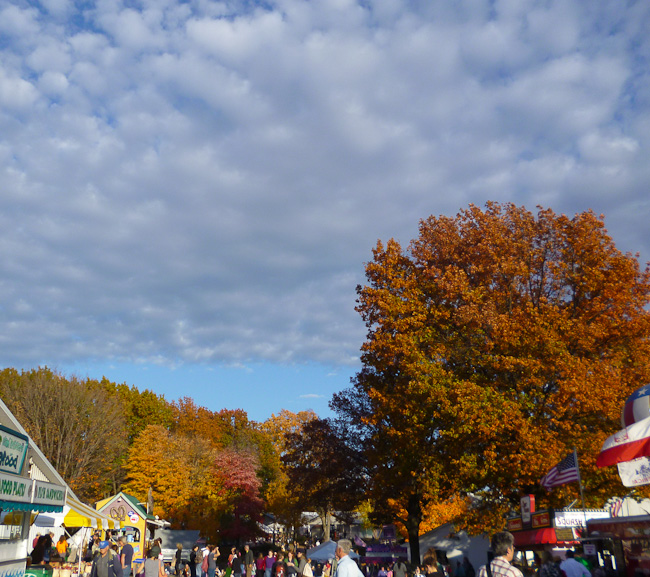 I only went to Rhinebeck for the first time last year, and that was a quick one day trip by myself. This time I was with friends and stayed over, and we had time to visit every booth, rock the Ravelry meetup with friends old and new, and eat the Artichokes French as well as the Apple Crisp. About those snacks – all I know is that my weekly grocery run is tomorrow, and artichoke hearts are on the list, along with apples.
But enough about that; what about the yarn? I didn't have a big shopping list, other than maybe some Yowza from Miss Babs – which I scored in the jewel-like ruby shade called "Catherine." My red-loving friend Amy claims "that's not RED!" but I think it is. I also think maybe I should stop characterizing myself as a lover of noncolor.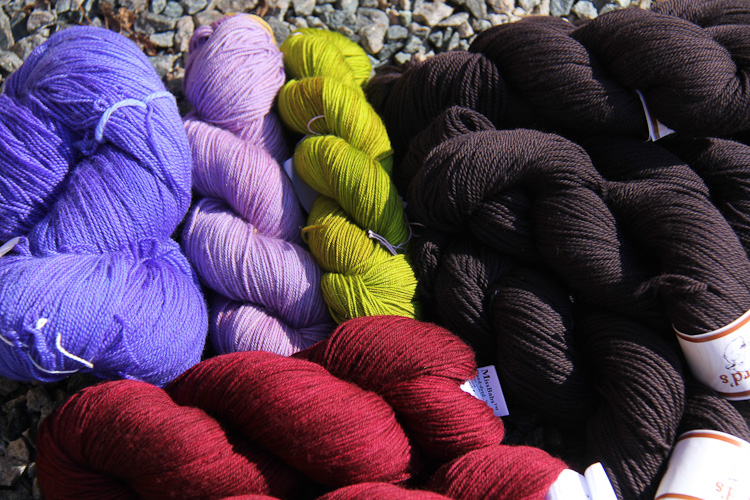 Here Miss Babs is joined by (left to right) 1120 yards of superwash fingering merino in Electric Blue from Sliver Moon Farm, Violet Sea Snail Bugga and Tree Frog Skinny Bugga from Cephalopod, and a sweater quantity of soft and wonderful Shepherd's Wool in Midnight Lake from Stonehedge Fiber Mill. I cant wait to design something with that last one, especially – the color is an amazing dusky brown with tones of purple, navy and black – so gorgeous!
Not to forget about Stitches, which was as wonderful as ever – despite the crazy fact that I drove there and back in one day. For a variety of reasons, that was the best approach this year, but it was an exhausting total of seven hours driving. Absolutely worth it though, to talk to some of my favorite vendors, and, oh, right – the yarn.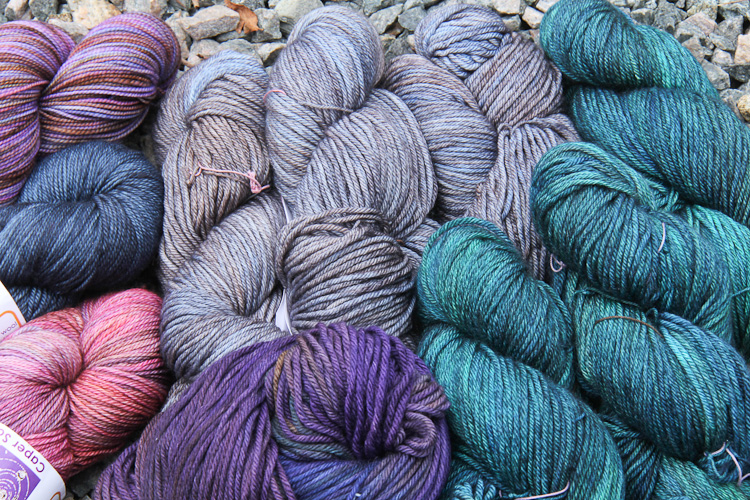 This picture looks somewhat more like my typical color palette, but maye that's also because it's not sunlit. Counterclockwise there is madtosh sock in Cathedral, String Theory Caper Sock in Juniper and Jasmine, an incredibly purple Candombe skein of Malabrigo Rios, and then madtosh pashmina worsted in Cousteau and Rainwater – all those skeins aren't in the picture, but there's a sweater quantity of each. The story there is, I knew I loved the blue-grey Rainwater color, but  was also deeply drawn in by the green Cousteau – much to my surprise. Of course, the solution was to get both. Clearly 2013 will be The Year of Sweater Design; altogether I have five sweaters' worth of material here, in addition to the singles. Oh, yes, the stash is looking good.