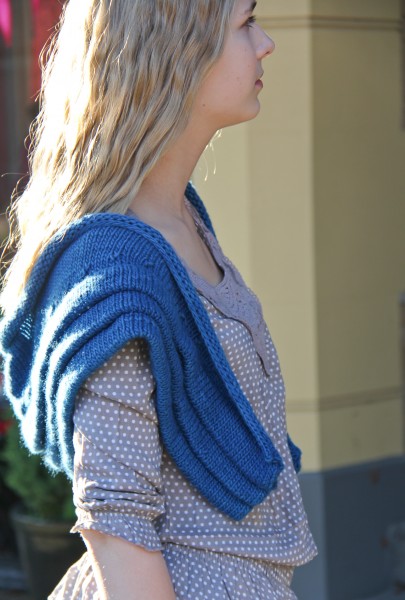 Tucks and folds have been a little bit of an obsession of mine since last winter, and three weeks ago I got a lightning bolt idea for a soft, scrummy tucked shawl for the autumn season ahead.
When something like this comes out of the blue, I like to go with it; thinking it might be a good fit, I sent off a pitch to Shannon at Cooperative Press, who is launching the new Knit Edge magazine. And so it comes about that Folderol is in issue 1, due to come out in the beginning of september.
This piece takes those textural tucks like the ones used in the Crimp hat and Ruckle Mitts, and exaggerates them into long, deep folds along the curve of a thick crescent shawl. The top edge is finished with applied I-cord, making the entire wrap reversible, and lovely when wrapped around the neck. I've had these three skeins of Malabrigo Worsted in Tuareg hanging around in stash forever, and 2.5 of them are now this cozy schlarf (with enough left over for a colorwork accessory!)
Couldn't resist calling my WIP "Foldemort," but really, nothing evil here – just a warm, comfy wrap.