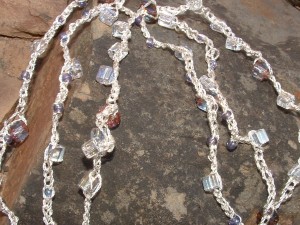 I'm a knitter, and I dont see that changing much anytime soon. I can crochet, if it's simple, like chaining, or even sc or dc if I brush up with a quick tutorial. But for me, knitting is the main craft mode, and simple crochet is something I see as a technique available to enhance the knitted object, much like I-cord or grafting.
I'm a project, as opposed to a process knitter; I want the FO. For me, knitting offers more possibilities in what can be made; you can shape garments, make intricate colorwork, employ endlessly variable textures. I've done a few crochet beanies, and even a shrug, but my indispensable hook is most often used to pick up stitches or place beads on my knitting.
That being said, I love making these beaded crochet necklaces – so easy, and they look like chain if you use metallic thread. It's enough to make me consider myself poly-craftual
Are you a knitter or a crocheter, or are you a bit of both? If you are monogamous in your yarn-based crafting, is it because you do not enjoy the other craft or have you

simply never given yourself the push to learn it? Is it because the items that you best enjoy crafting are more suited to the needles or the hook? Do you plan on ever trying to take up and fully learn the other craft? If you are equally comfortable knitting as you are crocheting, how do you balance both crafts? Do you always have projects of each on the go, or do you go through periods of favouring one over the other? How did you come to learn and love your craft(s)?