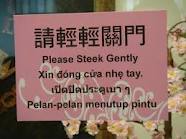 Although the sign is really just an example of Chinglish – the misuse of "steek" for "shut" in this case – the advice would be well suited for knitting. I've done alot of techniques, including short rows, fair isle, mosaic knitting, all kinds of sweater construction, and knitting back backwards.But steeking makes me nervous. Scissors? To cut my knitting? I've read plenty of tutorials, including Eunny Jang's great Steeking Chronicles, but . . . yeah. It keeps coming back to: cutting my knitting?! My nervousness is abetted by the fact that I dont do much colorwork, for which steeking is ideal. But one day, I will make a fair isle cardi, probably with a round yoke, and use this technique. You betcha.
How far down the road to learning your craft do you believe yourself to be? Are you comfortable with what you know or are you always striving to learn new skills and

add to your knowledge base? Take a look at a few knitting or crochet books and have a look at some of the skills mentioned in the patterns. Can you start your amigurumi pieces with a magic circle, have you ever tried double knitting, how's your intarsia? If you are feeling brave, make a list of some of the skills which you have not yet tried but would like to have a go at, and perhaps even set yourself a deadline of when you'd like to have tried them by.