My son's third grade art teacher approached me to ask if I'd be interested in helping with a knitting unit later in the year. Of course I said yes; it's great to see fiber arts being given some play in the elementary arts curriculum. Her idea is to take the kids to see shearing and spinning, learn about how yarn is made, then teach them basic knitting and have them each make something. I consulted with some knitterly, teacherly friends, who suggested making our own needles out of dowels with decorative fimo clay ends, and knitting a little animal.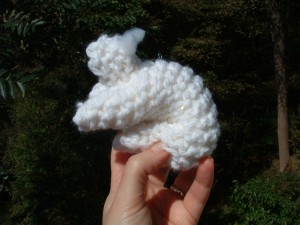 I read several instructions, and my first prototype is the GlitterBunny, so named because she is knit from Wool-Ease Chunky shot with a glitter strand. It's hard to avoid bling, sometimes. Anyway, this is probably the first time in I dont know when that I've knit a square on straight metal needles (my dowel needles desperately need sanding before I can let them touch yarn).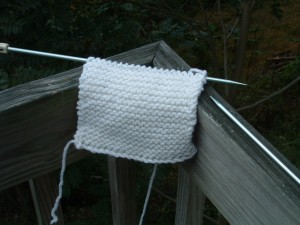 She needs some tweaking, and some eyes, but I think she's going to work out well.